Graphic, Website & Marketing Services that get you closer to your audience.
Lizzy Lloyd Creative Designs works hard to make sure your project is a success.
Because the success of our clients, ultimately, is indeed our success.
Carefully crafted business collateral from brochures, leaflets to menus.
A logo and brand designed specifically for your business.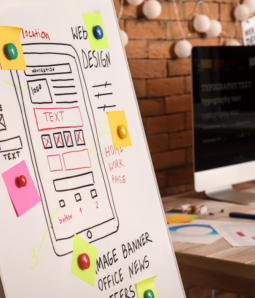 A beautiful and responsive website that works for your business.
Well planned marketing to connect your business with your audience.
Frequently Asked Questions
How much does a website cost?
Our basic websites start from £500, but there is nothing basic about this package. You get everything you need to launch your business, including a mobile optimised website and standard SEO configuration.
We believe you should see your website as a critical investment for your business. Your website is often the first place your customers learn more about your business.
Lizzy Lloyd Creative Designs creates websites that work for you.
What platform do you use?
We mainly build WordPress websites using user-friendly builders, so our clients are at ease with managing their websites if they choose to.
We also build websites using Wix, Shopify, Square Space, Webflow and many other platforms.
Have you built a website for my type of business before?
The honest answer to this is often no because your business is unique.
However, if you want to know if we are experienced in building websites and understanding your business sector, the answer is yes!
We take the time to understand you and your business during the initial consultation and through research. We want to understand your marketplace, customers, and brand to help you bring it all together for a successful project.
We are known for being efficient in getting things done. We don't want to scare you, but we are pretty fast. However, we leave no stones unturned, so if you decide to work with Lizzy Lloyd Creative Designs, buckle your seat belt because you're in for a fast but thrilling ride.
It's your choice, call us, e-mail, drop a message via our contact form. Whichever method you choose to contact us will be the beginning of an incredible creative journey.
Once we get the chance to discuss your project in detail, we will send you a proposal. Find out more on how it works.
Do you offer after build support?
It's important to us that your website is always looking great and working as it should. After every website build, we provide you with a 'how to edit your website' video, which you can follow to make simple edits when required.
For more complex changes, we offer a flexible fixed fee website maintenance support service.
Lizzy Lloyd Creative Designs
Start your own creative journey
Looking for a quality and affordable website design for your business with powerful marketing ?